About the Adaptive Arts Program
In 1995 our Adaptive Arts Program started out as an opportunity for a small group of individuals with disabilities to express themselves through poetry. Today, the Program continues to offer art classes in drawing, painting and art jewelry/accessories to adults with disabilities living in our community, as well as the hospital setting. Through the use of adaptive tools artists realize their full potential in artistic expression.
Originally set in the Eleanor Slater Hospital, the program has expanded to both campuses as well as a three community based programs to support our Adult Day Program
Art as Therapy
Adaptive Arts provide a special freedom of expression and creativity for people with disabilities.  In some cases, this form of independence is the only means by which a person can express themselves.  Through Adaptive Arts, individuals with physical and intellectual challenges are able to utilizes assistive equipment and therapies to overcome their challenges to freely create some truly beautiful creations.
Benefiting our Artists
All of the artwork that is produced is for sale, with 100% of the sale price from Original works going directly to the artist that created it.  We also offer reproductions and giclee prints, with 25% of each sale going to the artist and the remaining funds going to purchase materials such as canvas, paints and other materials to support the program.
Etsy.com
One of the best ways to see the Adaptive Arts program is to visit our online store at Etsy.com/shop/ucpri.  The site features a wide variety of our Artists' creations from original paintings to jewerly and other accessories.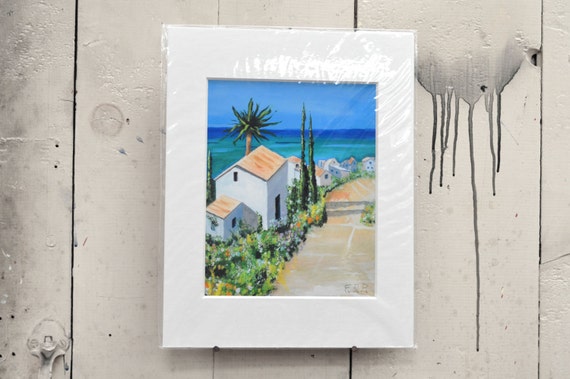 Morning in the Carribean – $30.00
by Roberta Nahigian